Wow. That is all I can say about my amazing Baking GALS team of 25 fan-freaking-tabulous bakers! I put the call out to some friends, a few message boards, and of course, on Facebook and we put together the biggest Baking GALS team of Round 5!

Our soldier is Brett, and his sister, Lindsay, was part of our baking team as well. Hopefully, Brett has started receiving some of the packages by now, and I'm sure he is one popular guy. Brett, if you're reading this, keep an eye out for about 25 packages in all! They'll be coming your way (wherever that is) for the next few weeks, so enjoy!

To all my wonderful bakers - THANK YOU! I was so excited to receive such an enthusiastic response from friends. I know that Lindsay truly appreciates your hard work, and I know that Brett will, too, as soon as he opens that first box. Thank you to all of your kids, as well! Many of you sent me adorable pictures of you baking with your little munchkins, so good job kids!

Here are some of the oh-so-awesome, often imitated, but never duplicated, bakers of Team Go Terps!




Lindsay B. baked brownies, cookies and mini-cupcakes and sent along a can of frosting and sprinkles for decorations

Kate L. and her daughter baked cookies and sent a whole care package


Sara E. baked and decorated oatmeal cookies, and then had her students bake snowman cookies


Kim G. baked gingersnap cookies


Melissa D. and Shauna baked oatmeal chocolate chip cookies


Michelle O. baked gingerbread cookies, cranberry-lemon cookies and a great care package


Jessica T. made fruit loop candy, puppy chow, and Rice Krispie treats


Colleen C. baked peanut butter and sugar cookies


Cara baked Big Fat Chewy Chocolate Chip Cookies, Cranberry Oatmeal Cookies and Spicy Baked Pretzels


Shelly G. baked a huge assortment of cookies with her family
Sheri W. baked Oatmeal Scotchies and Glazed Pecans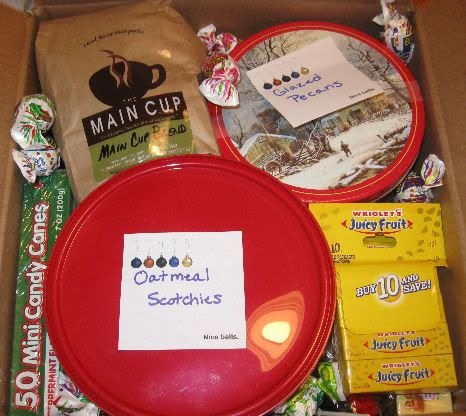 Laura S. baked snickerdoodles


Courtney R. baked snickerdoodles, M&M cookies and Swedish almond cardamom cookies


Emily E. (and Owen) baked cookies


Kari S. baked cookies
Ginny S. baked gingerbread cookies



Elena H. baked chocolate chip cookies, jam thumbprints and whole care package


Megan G. baked chocolate chip cookies and sugar cookies


Amy S. baked peanut butter cookies and Christmas swirl chip cookies


Rachel N. baked Ritz cracker cookies, chocolate PB chip cookies, sugar cookies, Nutella cookies, and snickerdoodles